Student Led Initiatives
Last updated: October 15, 2017
Dear Mason Community,
For those who do not know me, my name is Jonathan Carmona and I am a class 2015 and 2017 graduate from Mason. I was born and raised in Puerto Rico and my entire family still resides there. As you may know, Puerto Rico was recently hit by the Category 5 Hurricane Maria, which caused major flooding and destruction to the beautiful island. The entire island of 3.4 million people is still without power and is currently lacking many essential resources. It has been extremely difficult for me to locate and guarantee the safety of all of my family members, but day by day I keep hearing from more of them by various means.
I wanted to take some time to reach out for your help and kindness and see if we as Mason could collect donations of perishable goods and basic toiletries to send to my hometown and other parts of the island that are in serious need. I would be eternally grateful for any help you can offer during this difficult time for myself and for my family. Here are some of the items that I am looking to collect:
Canned Non-Perishable Foods
Dry Foods
Can Openers
Batteries
Personal Care Kits (toothpaste, toothbrushes, tampons, soap, shampoo)
Bottled Water
Hand Sanitizer
Bug Repellent
First Aid Kits
Female Hygiene products
Children and adult pain and stomach relief medicine
Baby products (formula, wipes, diapers, etc.)
Other items you can think of
If you would like to help or donate any of these items, please feel free to personal message me or email me at jcarmon2@gmu.edu Anything you are able to donate and suggest to me is greatly appreciated.
Thank you for your time!
---
The sisters of Zeta Tau Alpha invite you to make donations for the victims of Hurricane Maria. This is something that has affected many of our sisters personally, as well as the rest of the Mason community.
We will be collecting the following items:
Bottled water
Non-perishable food items
Batteries
Towels
Blankets
First-Aid Kits
Flashlights
Matches
Candles
Baby formula

Diapers

Wipes

Mosquito Repellent

Feminine products

Toiletries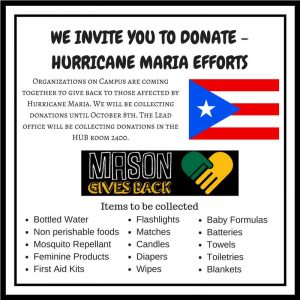 We will be collecting donations until October 8th. Drop-off times and locations (on campus) will be posted Hurricane Maria Donation Drive Facebook page. The LEAD Office located in the Hub, Room 2400 will also serve as a permanent drop-off location until 5pm on October 8th. These donations will be given to Life House, a religious organization that will be sending a team of volunteers to Puerto Rico in order to distribute the donated goods. If you have any questions, do not hesitate to contact Krystal Rodriguez at 703-851-4382. We look forward to your participation and support, even the smallest donations make a difference.
---
Project On-Going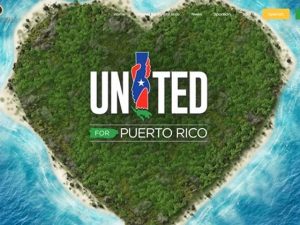 GMU for Puerto Rico
YouCaring site created by: Carlos Vivaldi, Freshman Class of 2021, Government and International Politics
---
Source: The Vox (Where you can donate to help with hurricane and earthquake relief efforts and recovery) 
ConPRmetidos: The Puerto Rican organization focused on public-private partnership is aiming to raise $150,000 for relief and recovery. You can give here.
American Red Cross: Usually the first group people think of when giving after a disaster. It says it is providing shelters for those displaced by Irma, and it has thousands of volunteers on the ground. You can give here. (3/4 stars from Charity Navigator.)
Oxfam: The nonprofit is focusing its efforts on the Caribbean islands that were devastated by Irma. You can give here. (3/4 stars from Charity Navigator.)
Convoy of Hope: The hunger-focused group is sending meals to Haiti. You can give here. (4/4 stars from Charity Navigator.)
All Hands: This nonprofit was recommended to Vox by disasterologist Samantha Montano. You can give here. (4/4 stars from Charity Navigator.)
Global Giving: A charity crowdfunding site that is attempting to raise $2 million to be used exclusively for local relief and recovery efforts. You can give here. (4/4 stars from Charity Navigator.)
Salvation Army: The Christian charity is emphasizing its intentions to help with long-term recovery. You can give here.
Americares: The nonprofit focused on medicine and health is seeking to provide emergency medical supplies and other basic resources to first responders and others. You can give here. (4/4 stars from Charity Navigator.)
Volunteer Florida: The state-based group is accepting volunteers and donations. Learn more here.
United Way of Miami-Dade: One of the major local nonprofits that will be working on Irma recovery. You can give here.
South Florida Wildlife Center: The group is centering its efforts on animals affected by the storm. You can give here.
Brigid's Crossing Foundation: An animal shelter in Naples, Florida. You can give here.