The impact of Hurricane Harvey on parts of Texas has been devastating. For those in the Mason community who wish to contribute to relief efforts, several resources are listed below. We also have several students from the Texas area whose families have been impacted by Hurricane Harvey.  As we receive more information from those students and their families, we will update this page.  Mason is partnering with the Virginia Department of Transportation (Fairfax Office) and Victory Van Corporations to respond to some immediate needs of those most affected.
Families of Mason Students Who Need Your Help
more information coming soon…
---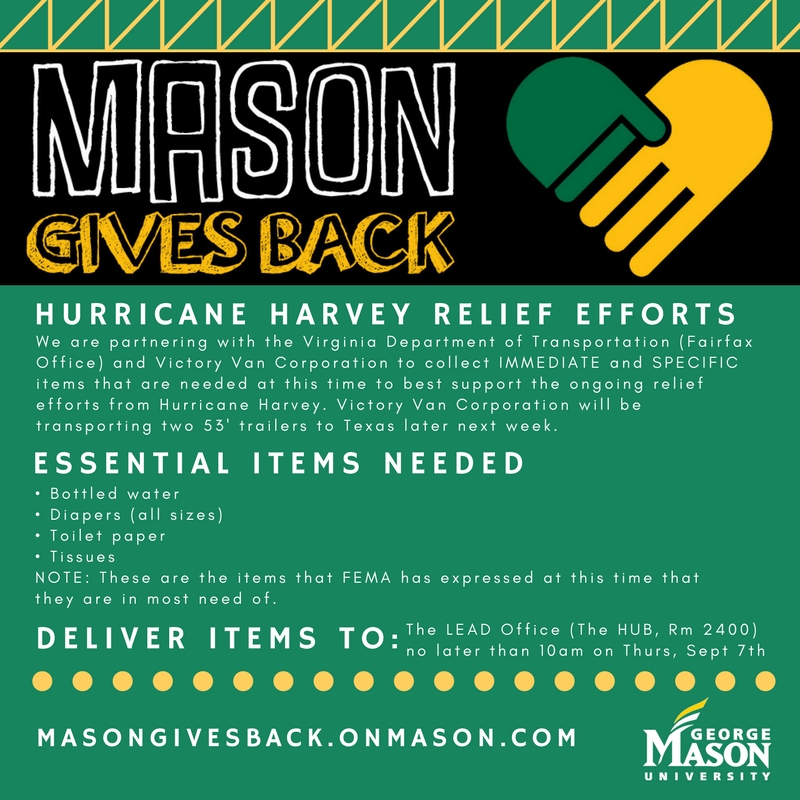 Articles providing great information on ways you can best help and support relief efforts for those affected by Hurricane Harvey 
General Relief Efforts
The American Red Cross – financial donations, no amount is too small
Houston Mayor Sylvester Turner established a Harvey relief fund at The Greater Houston Community Foundation. The organization connects donors with a network of nonprofits and innovative solutions in the social sector.
GlobalGiving, which calls itself the largest global crowdfunding community, has a goal of raising $2 million for its Harvey relief fund. Funds will be used first for immediate needs of food, water and shelter and then transition to long-term recovery efforts.
United Way of Greater Houston has launched a relief fund for storm-related needs and recovery. The organization says it already maintains a disaster relief fund but anticipates the needs of Harvey will far exceed those existing resources.
The Center for Disaster Philanthropy has also launched a Hurricane Harvey relief fund. The organization says its strategy emphasizes "investing well rather than investing quickly, addressing the greatest needs and gaps in funding that may be yet to emerge.
GoFundMe, the social fundraising site, has created a landing page that gathers the campaigns on its platform related to Harvey.
Help a Children's Hospital which cares for Corpus Christi's youngest and most ill patients, was directly in the path of Harvey. The hospital transported many of its patients out of harm's way, but will likely will need funds to seamlessly continue operating its 189-bed pediatric facility. Donations can be made online at www.driscollchildrens.org.
The Salvation Army says it is providing food and water to first responders and preparing for massive feeding efforts for residents.
Send Relief and Southern Baptist Disaster Relief says its teams began responding before Harvey made landfall and continues on-the-ground relief work.
Samaritan's Purse is accepting donations as well as volunteers for Harvey disaster relief for the coming months.
Online Shopping
Blood 
Shelter
Food
People with Disabilities 
Portlight Strategies facilitates projects involving people with disabilities, including post-disaster relief work. The organization says its hotline for Inclusive Disaster Strategies has received urgent requests from people in need.
Kids
Save the Children is providing relief supplies and services to help children and families in shelters and other victims of Hurricane Harvey.
The Texas Diaper Bank, based in San Antonio, works to meet the basic needs of vulnerable babies, children with disabilities, and seniors. It focuses on providing partner agencies with diapers and goods.
Animals
Sources: NPR Article (Here's How You Can Help People Affected By Harvey – August 28, 2017; USA Today Article (Here's How to Help Victims of Hurricane Harvey – August 29, 2017; and How to Help Hurricane Harvey Relief … by Shopping Online – August 29, 2017)