---

Computer CORE a community based, volunteer driven non-profit to help low-income adults acquire the technological & life skills they need to pursue career aspiration
---
Dulles Area Transportation Association
Looking for volunteers to help seniors get to medical appointments, the grocery story, or other important destinations.  Drive only when you want, and at your convenience.  Include miles drive as a tax-deductible charitable contribution.
For more info, contact Karla Nativi at knativi@datatrans.org or Elizabeth Darak at edarak@datatrans.org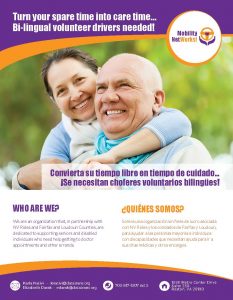 ---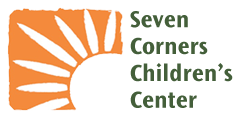 Seven Corners Children's Center
Seven Corners Children's Center (SCCC):
In 1971 after the civil disturbances in the district, there was emerging concern to provide child care for families with limited income and families confronted with problems dealing with immigration and/or minority issues. The concerns continue to shape our organization's mission. SCCC a small non-profit, one of the first public/private partners in Fairfax County offering quality early childhood education to the Seven Corners community. www.sevencornerscc.org
---
Alternative House non-profit agency working with youth and their families, and homeless young adults
Types of opportunities for Mason students: Undergraduate Interns – Psych in the Community or Graduate Interns – Clinical Mental Health Counseling
Contact information: Susie Guido, LPC, Clinical Director, 703-356-6360, susie_guido@thealternativehouse.org
Website:www.thealternativehouse.org
Is this a one time opening or an on going project: Ongoing – please read information on the website under internship information
---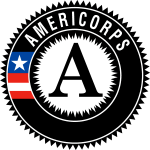 AmeriCorps
One program within the Corporation for National and Community Service, AmeriCorps is a specific kind of funding that can provide part-time or full-time volunteers in your organization for a full year or more.
---
The Arc of Northern Virginia – Supporting people with developmental and intellectual disabilities in the Northern Virginia area
Types of opportunities for Mason students: Event planning – Large event on Saturday October 22, at the Hilton McLean Tysons Corner.

Volunteers will be needed from 10am-12am.
Set-up: 10am -3:30pm
Silent auction volunteers: 4:00-9:00
Checkout: 8:30 – 10:30
Clean up: 10:30 – 12am

Contact information: Lynn Ruiz, 703-208-1119 x114, LRuiz@TheArcofNoVA.org
Website: http://www.thearcofnova.org
Is this a one time opening or an on going project: one time volunteer opportunity
---
Arlington County Department of Parks and Recreation
Types of opportunities for Mason students: adapted aquatics, adapted ice skate night, Zombie Fun Run
Contact information: Hadyn Kihm, 703-228-4724, hkihm@arlingtonva.us
Website: https://parks.arlingtonva.us/come-volunteer-us/
Is this a one time opening or an on going project: ongoing and one-time opportunities
---
Types of opportunities for Mason students:

Lots of different opportunities, different times and locations
Help staff our Info Table and Fairfax City Fall Festival (for this opportunity sign up, http://www.signupgenius.com/go/30e0c4aa4ac2eab9-fall6)

Contact information: Mila Cobos, 703-273-8829, mcobos@britepaths.org
Website: britepaths.org
Is this a one time opening or an on going project: Different projects, times and locations
---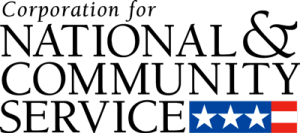 The Corporation for National and Community Service
This organization, sponsored by the federal government, provides grants, training and other resources to support the goal of providing opportunities for all American citizens to contribute to their communities in meaningful ways.
---
Types of opportunities for Mason students:

Special Event Assistants – A Taste of Fall with FACETS 11.05.16 (one time)
Case Management Intern – Permanent Supportive Housing program ( ongoing)
Homework Help – Ragan Oaks Community Center (ongoing)
Front Desk Volunteers – (ongoing)
Van Maintenance Volunteer – (ongoing)

Contact information: D'Ivonne Holman, 703-865-4251, dholman@facetscares.org
Website: www.facetscares.org
Is this a one time opening or an on going project: All are ongoing except for A Taste of Fall with FACETS
---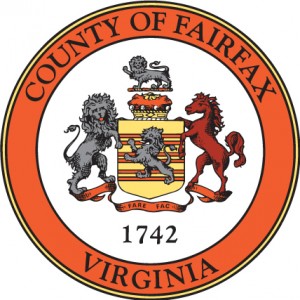 Fairfax County Office of Public Private Partnerships
The Office of Public Private Partnerships (OP3) develops partnerships between the business community and local community organizations that address critical needs in Fairfax County. OP3 creates and develops public private partnerships to stimulate positive change in the community and encourages civic involvement and responsibility. One of the goals of OP3 is to bring together resources between the public and private sectors to effectively transform the quality of life in the community. Fairfax County's Volunteer Solutions is a partnership program of the Department of Family Services, Health Department, and Neighborhood and Community Services. Volunteer Solutions provides meaningful opportunities to improve the lives of older adults and adults with disabilities living in Fairfax County.
Types of opportunities for Mason students: Volunteers make a difference by delivering Meals on Wheels, helping with grocery shopping, medical appointments, or other errands. They also do social visiting for people in the community who are isolated. There are many other ways to support older adult participants at Senior Centers or Adult Day Health Care centers as well. Volunteer Solutions opportunities abound throughout Fairfax County.

Contact information: Volunteer Solutions, 703-324-5406 TTY 711, VolunteerSolutions@fairfaxcounty.gov
Website: www.fairfaxcounty.gov/OlderAdults
Is this a one time opening or an on going project: Volunteer Solutions has both ongoing and one-time event opportunities.
---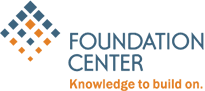 Foundation Center, Washington DC
An excellent resource for information about grants and fundraising, including a directory of Foundations.
---
Hispanics Against Child Abuse & Neglect
Types of opportunities for Mason students: tutors
Contact information: Carla Paredes, (571) 351-9774, info@hacan.org
Website: www.hacan.org
Is this a one time opening or an on going project: ongoing
---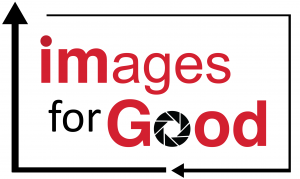 images for Good (or "ifG") is a local nonprofit that mentors students and veterans in photography so that they can capture meaningful stories of social change and community organizing. The volunteers gain photography skills that they use to attend service events with ifG. At the events, they are able to give back to the community and the social cause they are photographing while broadening their network. The social cause receives high-quality images of their great work, and ifG gains community capacity to amplify their collective impact.
Volunteer Information: There are many ways you can make a difference in our community as you grow your skills, capabilities, and network and broaden your perspectives – all the same time!  Your unique perspectives, skills, and contributions can help our grassroots startup movement and social impact 501c3 make an even bigger difference to students and programs across the VA-DC-MD area.  And while images ARE important, what we do is far greater than the photography or video tools we use to grow students and serve social causes.  We accelerate programs and amplify voices addressing community challenges like homelessness, racial inequity, gun violence, healthcare insecurity, and Veterans' issues.  We close opportunity gaps one by one – image by image, story by story – for Students, for Programs, and our Community.We tell stories that lead to change…and invite you to be a part of these efforts!  Here are some key ways to help:

Marketing & Communication – We are visual storytellers that drive change in people and programs!  Come help us create content, convey information, and impact audiences.  From brochure design to media engagement to social media posts to infographics to helping craft focused & engaging outreach tools, we can find a way to meet your goals and play to your strengths. Great for those interested in Marketing, Journalism, Communications, Graphic Arts.
Photography & Video – You can assist us as we give voices to those who need services like ours the most but can afford it the least.  Help programs with your skills (using your equipment or ours) alongside one of our professional mentors – as well as explore if providing basic instruction to other students (at the High School and University levels) works for you!  Anyone can serve, regardless of your experience level with these tools.
Community Outreach – Help us meet our Sustainability, Capacity, and Capability growth targets – all to develop more students and serve more community programs!  Anyone can help us with grants, media engagement, scheduling, and recruiting & developing volunteers. Business and program management / HR skills are all very helpful.  And if you know a foreign language, we could use your help in making our outreach materials as inclusive and diverse as the community we are serving and helping build.Timelines and expectations can vary by project, and we will strive to craft an arrangement that works for everyone.  Given that we drive transformation via relationships and skill development and cultivating leadership over time, images for Good is a great match for those who recognize that commitment and passion matters.  Come and see what we can create together!

Contact: Kevin Krisko, 571-229-6605, imagesforGood@gmail.com
Website: https://imagesforGood.org
Types of opportunities for Mason students: Volunteering with children with disabilities
Contact information: Sophia Venero, 301-461-3086, keengrdc.sophia@gmail.com
Website: keengreaterdc.org
Is this a one time opening or an on going project: ongoing
---
Keep Prince William Beautiful, Inc. is a non-profit environmental organization that serves Prince William County through partnering with residents, businesses and government to educate and inspire people to be environmental stewards and Keep Prince William Beautiful. Our Vision for Prince William County is one that ensures we are a premiere community that attracts residents, businesses and tourists; that has a strong community engagement and pride; and creates a clean, beautiful, sustainable environment for future generations. We offer programs spanning the issues of litter removal and education, recycling education and water quality improvement. We invite you to visit our programs pages where you will find information about each of our programs. There you can learn more about our work and how to get involved.
Types of opportunities for Mason students: Administrative Assistant Intern, Volunteer Coordinator Intern, Environmental Programs Intern, Fundraising and Development Inter, Volunteer, Green Community Intern
Contact information: Jen Medina, 571-285-3772, jmedina@kpwb.org
Website: http://kpwb.org/
Is this a one time opening or an on going project: ongoing
---
Kingsley Commons Computer Learning Center (CLCP)- A Fairfax County Afterschool program
Types of opportunities for Mason students: Helping homework, One-on-one reading/math tutor, robotic mentor
Contact information: Sandra Chavez, LPC, Clinical Director, (703) 698-1496 or (703) 889-7310, Sandra.Chavez@fairfaxcounty.gov
Is this a one time opening or an on going project: Ongoing
---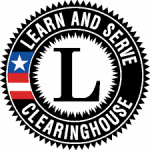 National Service-Learning Clearinghouse
Sponsored by the federal government's Learn and Serve America, this resource provides background information on quality service-learning, information on funding resources, and helpful publications, such as Service-Learning in Community-Based Organizations.
---
NOVA Pregnancy of Fairfax/a branch of Sanctity of Life Ministries
Types of opportunities for Mason students: The intern would be offered opportunities to learn about options to abortion. This would be accomplished through one on one interaction and educational films. An opportunity for enhanced, foundational training would be available in the fall or spring through the 9 week weekly Client Advocate workshop. The internship would include admin tasks such as answering calls, maintaining folders, entering data into WayCool, ordering supplies etc.
Mission: We exist to share the Gospel of Jesus Christ and affirm life in the womb. We accomplish this through compassionate counsel, education and medical services like ultrasound imagery.
Contact information:Kay Gardner or Sami Mudzerow,703-278-5433,kay.gardner@slmpregnancy.org or sami.mudzerow@slmpregnancy.org
Website: slmgetinvolved.org
Is this a one time opening or an on going project: ongoing
---
OAR of Fairfax – OAR is a local non-profit restorative justice organization providing human services since 1971. Our history has its roots in the highest principles of human rights, and the most practical applications of a community's enlightened self-interest and citizen action
Types of opportunities for Mason students: Internships, Mentoring, Service Coordinating, Adult Detention Instructor, Court Room Volunteer
Contact information: Lyla Novakowski, 703-246-3033, lnovakowski@oarfairfax.org
Website: www.oarfairfax.org
Is this a one time opening or an on going project: On Going- 1 year commitment for volunteering positions
---
VITA (Volunteer Income Tax Assistance)
Types of opportunities for Mason students: Greeter, Screener, Tax Preparer, Spanish Interpreter, IT technical support
Contact information: Tatyana Chambers, 703-533-5702, Tatyana.chambers@fairfaxcounty.gov
Website: http://www.novacash.org
Is this a one time opening or an on going project: Seasonal, from January through April 15.
---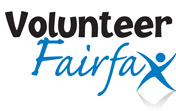 Volunteer Fairfax
Volunteer Fairfax serves a network of more than 900 member public and private agencies in the region. The Center provides its members with a wide array of programs and service opportunities to enhance their effectiveness in meeting critical community needs. Volunteer Fairfax provides training, education and outreach opportunities to nonprofit members as well as to the broader community.