18th Annual Victims' Rights 5K Run & Walk
In collaboration with the Aimee Willard Endowed Scholarship Fund
Please join us for GMU's 18th Annual Victims' Rights 5K Run & Walk honoring victims of crime. The Run/Walk will take place this Friday, April 4th at Noon at Center for the Arts.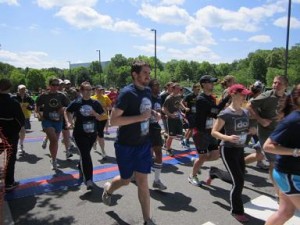 ONLINE REGISTRATION CLOSES TOMORROW! After tomorrow, you can register the day of the race. Race-day registration will begin at 10:30am at the start line (Mason Pond and Center for the Arts). Cash or check will be accepted. Free for Mason students with valid Mason student ID, $25 for all other participants.
Online registration: http://www.active.com/fairfax-va/running/races/the-18th-annual-victims-rights-run-and-walk-2014-5817308
Online registration fees:
Faculty/Staff – $15 (Teams – $10)
Community Members- $20
Mason Students – Free (with valid Mason ID)
Please note there will be a $3.25 processing fee in addition to the above registration cost. Online registration closes Tuesday 4/1. Tee-shirts are available while supplies last. Proceeds of this event go to support the GMU's Victims of Violence Fund and the Rape Aggression Defense (RAD) Program. Donations to these programs for the Victims' Rights 5K Run & Walk are made through the GMU Foundation. Participants may use shower facilities in the RAC and Aquatic and Fitness Centers for free after the event. Show your race bib for entrance. Thanks, Mason Recreation!
The wonderful sponsors are: Army ROTC, Housing and Residence Life, Intercollegiate Athletics, Mason Recreation, Patriot Club, University Life, University Police, Wellness, Alcohol and Violence Education and Services, and Wellness By Mason.
For more information about the event, Aimee Willard Endowed Scholarship Fund, or our beneficiaries please go to vrrw.gmu.edu. If you have any questions regarding registration please contact Megan Grant at mgrant7@gmu.edu or 703-993-3630.